It seems like we blinked and it's MARCH! How did that happen so quickly? I hope you're each making the most of your time, and that you're finding lots of time to scrap the memories you're making!
We have loads of new goodies for you this week! It's time for another
FAB4 Promo
!. You'll LOVE the designs this team came up with! Check them out by March 11!. See details below!
Don't miss our gorgeous
New Releases
just below the FAB4 info. Our designers have really outdone themselves again!
Remember that this week is your LAST CHANCE to buy products from
Fanette Designs
. We're so sad that she's retiring, but wish her happiness and success in all that she does in the future. Be sure to get her goodies while you can -
they're discounted 60% through Friday, March 10
! Enjoy!
You'll see LOTS of 4's during our FAB4 Promo! 4 Designers, 40% SALE for 4 Days.They have also created 4 Coordinating Mini Kits (plus some gorgeous Add-Ons), and are offering 4 Coordinating Subscriber Freebies. Our FAB4 CT Crew Chose 4 favorite products from each designer that get an extra discount! Phew...that's a LOT of 4's!
We think you're going to absolutely fall in love with their new designs, Have You Seen Spring? You're definitely going to want them all. Check out the Mega Bundle below - you'll get all of the mini kits and add-ons and SAVE 58% (BEST DEAL)! The Mini Kit Bundle is discounted 45% and the individual packs are also available for 40% off! So get them while you can! They're all on sale through March 11th - 4 DAYS ONLY!
Grab these deals FAST!
The FAB4 Bundles are only available during the promo, through March 11!
Four of our amazing CT members worked with our FAB4 designers this month -Scrapdolly, Flo06nice, Sydamty & emily.stitches.33. We asked them to pick their favorite product from each of our FAB4 Designers. Since they're our CT's favorites, we're giving you an extra 10% discount on these products during the FAB4 Promo.We want them to become your favorites, too! (The extra 10% discount is applied in the cart.)
Check out the gorgeous layouts our CT created with the FAB4 Mini Kit Bundle!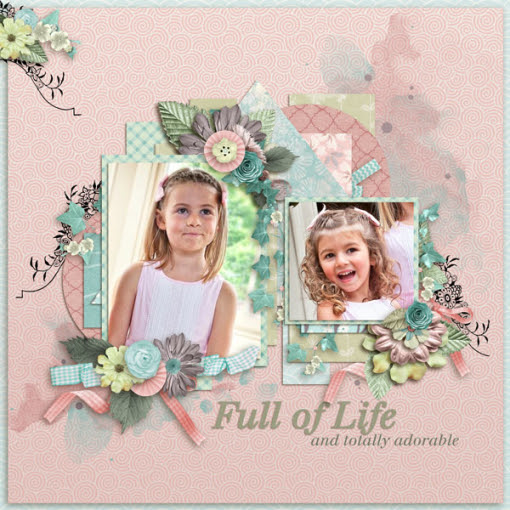 Layout by Scrapdolly
Layout by Sydamty
Layout by Emily
Layout by Flo06nice
Each of our FAB4 designers has created a coordinating freebie for their newsletter subscribers. Click each image below to subscribe & collect all four! Watch their future newsletters to keep up on new releases, sneak peek drawings, subscriber discounts & exclusive subscriber freebies!